Professional Carpet Cleaning Northern Cleaning Solutions
By choosing Northern Cleaning Solutions for your commercial carpet cleaning needs, you get a deeper clean, faster-drying carpets and a healthier space for staff and customers. Clean carpets in office spaces, restaurants and shops are of crucial importance.
Commercial carpet cleaning is essential, not only for ensuring you nail that critical first impression but
also for maximising the lifespan of your flooring. A stained and unmaintained carpet can be detrimental to potential business, giving the wrong impression. Clean carpets will ensure your business presents a professional image to potential clients.
By choosing us, you are getting the best carpet cleaning solution around, with a professional service and can-do attitude. Many of our commercial customers have used our services for over 10 years and we are always accommodating and happy to help any business in need of carpet cleaning.
The true experts
Did you know that carpets can hold up to 4 times their weight in dirt? Yes- that's right- up to 4 times! Therefore, regular professional carpet cleaning is critical to maintaining healthy working environments. We appreciate that, as a business, you may have many choices when it comes to choosing carpet cleaning services. However, many carpet cleaning companies are not suited for commercial carpet cleaning and the products they use cannot perform well on industrial carpets. At Northern Cleaning Solutions, we have a major advantage over our competitors in this respect! Being a franchise of one of the largest carpet cleaning companies in the world, we have access to high-end, in-house products and training to provide the best clean around. We use a specially developed, green-certified cleaning solution which is one of the only totally non-toxic cleaning solutions in the world, meaning a safe environment for your employees and customers. The exceedingly low levels of moisture used during the cleaning process also helps eliminate the risk of mould and mildew that excess water can cause. Less moisture means faster drying times and ensures areas of your offices, shops or restaurants are not out of action for longer than necessary. Thus, carpets we have cleaned are left drier, cleaner and healthier.
Drier
Using 80% less water, carpets cleaned by us can dry in a fraction of the time you might expect following cleaning by more common, steam-based methods. Indeed, commercial carpets cleaned using these more common techniques can take days to dry whereas a carpet cleaned by us is expected to dry within just 1-2 hours. The result? Your business activities are not as heavily impacted; with carpets becoming totally dry and usable pronto, things can get back on track in no time!
Another benefit of using less water is that there is a much reduced risk of carpet shrinkage, which can be caused by over-wetting. In fact, we are so confident of this that we guarantee no shrinkage on all our carpet cleans!
Cleaner
Our state-of-the-art carpet cleaning solution is carbonated. When a straw is placed in a glass of fizzy drink, it is naturally lifted to the surface. This is similar to how our carbonated solution is able to lift dirt from between carpet fibres. When our solution is heated and applied to a carpet's surface, it penetrates deep down into the pile lifting even the tiniest, most well-hidden particles of dirt up to the surface to be whisked away by our industrial, portable extraction equipment, giving you the most thorough clean on the market.
We don't use any sticky soaps or shampoos on your carpets meaning there is no dirt-attracting residue left behind. So, no matter what the footfall or environment, from offices to restaurants, your carpet will retain that just-cleaned look for longer.
Healthier
With our commercial carpet cleaning services, we use an advanced ultra-low-water method which means there is a vastly reduced risk of mould and mildew growth under your carpet. Mould and mildew can result from excessive wetting of carpets, which can be common with most alternative, steam-based carpet cleaning methods. Our cleaning solution is all-natural and green-certified; that means it does not contain any harsh soaps or chemicals. Unlike many of the commercial carpet cleaners out there, our solution is completely safe and non-toxic, so you get added peace of mind with every clean.
Powerful stain removal
We provide a quick response and reliable service. We understand that stains can be an eyesore and even a detriment to your business. We have specially developed, industry-leading stain removal products and techniques. Use of all these products is included in our full carpet cleaning packages. However, as a commercial customer, you will also enjoy the additional benefits of our stain-removal service. This is a quick and easy way for a single stain to be removed from a carpet and involves using all the same methods as in a full clean but concentrated only on the locality of the stain, and uses our stain-extraction machine. Using this service will assist you in maintaining carpets in between cleans and ensuring your premises are always VIP-ready.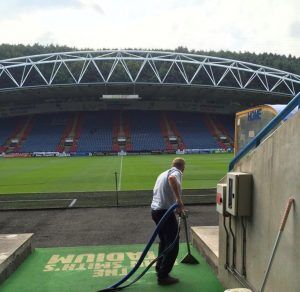 Protect after the clean
We have our own specially formulated protection product. Unlike other commercial carpet cleaners, we do not use off-the-shelf products and our protection product can only be applied by a trained operative. Our astounding carpet protection product Repel Protectant works with all different types of commercial carpets by forming a protective shield around each carpet fibre. This truly offers you an extra level of protection and ensures carpets stay cleaner for longer. This product is essential for high footfall areas such as offices, restaurants and hospitality sector carpets. The Repel Protectant is applied during the cleaning process; however, it can also be applied to brand new carpets to offer that vital extra layer of protection from day one. The liquid-repelling carpet solution doesn't give stains the chance to set! It repels most potentially staining contaminants, affording you a crucial window of opportunity to clean up the spill. The product also makes future carpet cleans perform better by shielding your carpet from deep soiling.
Sanitiser and deodoriser improve the health of carpets
When running an office, or any commercial space for that matter, looking after people's health is the number one priority. This means ensuring the best indoor air quality. Fitting carpets is the first step towards achieving this as carpets are enormously beneficial, acting like giant filters inside your commercial premises. By gathering and absorbing common allergens and germs, carpets improve air quality. But, just like an air filter, carpets become full over time and must be thoroughly cleaned periodically to keep them at their most effective for trapping particulates as they fall from the air. Our carpet cleaning services have been tested by an independent air quality laboratory and have been proven to remove an average of 98.1% of common allergens from the carpets we clean. And, when we use our specialist carpet sanitiser alongside this, up to 85% of the airborne bacteria and around 82% of bacteria from carpets can be removed.
Get a professional carpet clean today and reap the health benefits to you and your employees, not to mention the potential increases in productivity and subsequent business growth. We have experienced technicians who are on-hand to provide details of the clean and free demonstrations to business clients.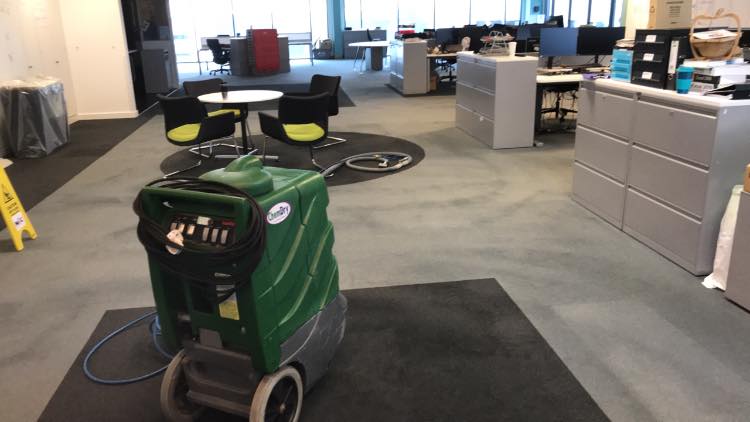 How often should a premises have its carpets cleaned?
The answer varies depending on the environment and the amount of foot traffic it receives. You may want to consider commercial carpet cleaning if your carpets are starting to show signs of dirt, grime, or discolouration. Professional commercial cleaners have the right equipment and know-how to get commercial carpets looking as good as new. Not only will this make your office look great, but it can also help extend the life of your carpets and maintain a healthy indoor air quality.
What should I expect from a commercial carpet cleaning service?
Professional commercial cleaners will assess the commercial environment and recommend a tailored cleaning program. This may include steam cleaning or dry cleaning for deeper soils, stain removal and spot treatments, odour neutralisation and more. All of this is done with safe and eco-friendly products to ensure the best results without risking your health or safety. Most commercial carpet cleaning services will also offer follow-up treatments such as protection and deodorising to ensure your commercial carpets stay looking great for longer.
How do I prepare my business' carpets for a commercial cleaning?
Prepping carpets for a cleaning is an important step to ensure the best results. Before scheduling your commercial carpet cleaning service, be sure to vacuum the carpets and remove any surface debris. You may also want to clear out furniture or anything that could potentially get in the way of the cleaners. Finally, it's important to notify commercial cleaners of any special instructions or areas that need to be avoided. With the right preparation, you can rest assured that your carpets will receive a thorough and professional clean.
What are some common mistakes businesses make when choosing a carpet cleaning service?
One common mistake is opting for the cheapest carpet cleaning company you find, without looking into their credentials or certifications. This could end up costing you more in the long run if they lack the expertise and experience needed to get carpets looking their best.
It's also important to check that cleaners are using safe and eco-friendly products, as some commercial cleaners may use harsh chemicals or cleaning agents that can cause harm to your carpets. In the worst cases, a poor company can even permanently damage or burn your carpets, costing your business a fortune!
Finally, make sure any cleaners you take on can provide a guarantee for their work to give your business and office manager peace of mind.
At the end of the day, professional carpet cleaning is one of the best ways to maintain a healthy business environment while keeping your carpets in pristine condition. With the right cleaning team on board, you can have peace of mind knowing that your commercial premises will look its best and make a great impression on anyone who visits. Get in touch with us today to find out more about our commercial carpet cleaning services!