Professional Carpet Cleaning By Northern Cleaning Solutions
By choosing Northern Cleaning Solutions to provide your domestic carpet cleaning needs, you get a deeper clean which is fast-drying and a healthier home for you and your family.
The HCE Process is Tested and Proven to Remove Bacteria and Allergens.
We recognise that you may have many choices when choosing carpet cleaning services. Not all domestic carpet cleaning services were born equal, In fact, being part of one of the largest carpet cleaning companies in the world, we were able to find out just how significant an impact a Northern Cleaning Solutions clean can have on your home health and we were also able to measure how effective our cleaning processes are at eliminating unhealthy and unwanted elements from your home. In an independent study which used our Hot Carbonating Extraction (HCE) process in a large group of houses, it was found that, on average, the process removes 98.1% of common household allergens. These include dust mite allergens and pet hair from carpets. With a Northern Cleaning Solutions carpet clean, you can breathe easier about the healthfulness of your home for your family.
DRIER
Our advanced carpet cleaning process uses around 80% less water than some of the more typical steam cleaning systems. This results in dry-times of around 1-2 hours, not the days it often takes for a carpet to clean fully following cleaning by steam-based methods. This means you and your family can get back to enjoying your home sooner. Very low levels of moisture also almost eliminate the risk of carpet shrinkage. In fact, we're so confident of this, we even offer a no-shrinkage guarantee on every clean!
CLEANER
Our domestic carpet cleaning solution is carbonated. Imagine a straw in a fizzy drink- the straw naturally rises to the top of the glass. Our specially-formulated, carbonated solution works using a similar action! When the solution is heated and applied to a carpet, it effervesces and the bubbles penetrate deep into the carpet pile, lifting even the tiniest particles of dirt up to the surface to be whipped away by one of our powerful, portable extraction machines, giving your carpet the most thorough clean on the market! And because we don't use any sticky soaps or shampoos, there is no dirt-attracting residue left behind, so carpets stay cleaner and fresher for longer.
HEALTHIER
With our carpet cleaning services, we use an ultra-low-water method which means there is a reduced risk of mold and mildew growth under your carpet. Excessive-wetting of carpets, which is common with most steam-based carpet cleans, is one of the biggest causes of mould and mildew growth. Our cleaning solution is all-natural and green-certified; that means it doesn't contain any harsh soaps or chemicals. Unlike some of the alternative domestic carpet cleaners, our solution is completely non-toxic, ensuring the safest environment for your most cherished companions- your family and pets.
Powerful Stain Removal
With access to state-of-the-art cleaning systems, world class in-house products and the highest trained and most experienced technicians in this area, Northern Cleaning Solutions are your industry-experts in stain removal. All our resources are available and are used on every carpet cleaning service we carry out. This means that even the most stubborn of stains can be removed. We realise just how much of an eyesore stains can be and that's why our team have specialised products for removing tea, coffee and red wine stains to restore your carpets to their former glory.
Pet Urine Removal Treatment
Here at Northern Cleaning Solutions, we love our pets. They brighten up our day and are always there to support us. But we also realise that accidents happen and, once they do, the odours can be very difficult to remove. For this reason, we have a specialised product for this very issue. Our proprietary P.U.R.T. process is unparalleled in the industry. It is specifically formulated to break down molecules found deep in the carpet that are the source of pet urine odours.
Once applied following a deep carpet clean, P.U.R.T. gets to work breaking down all of the odour-causing elements over the next 24 to 36 hours. When each treated area has dried, the odour is gone for good! That's what makes us the best domestic carpet cleaners for pet urine.
We can Protect After We Clean
Our astonishing in-house carpet protection product, Repel Protectant, works with all different types of carpets by forming a protective shield around each fibre, giving your carpets that vital extra layer of protection which will ensure they stay cleaner for longer. This product is essential for families with young children. The liquid-repelling carpet solution doesn't give stains the chance to set! It repels most stains, offering you a window of opportunity in which to soak up the spill yourself, damage-free, before it adheres to the carpet fibre. This also makes future carpet cleans perform better by defending your carpet against deep-soiling.
Sanitiser and Deodoriser Reduce Carpet Allergens and Bacteria
Does anyone in your home suffer from allergies or asthma? Are you concerned about allergens and air quality? Do you have children, or even pets, who love nothing more than to play on the carpets, a potential hive of bacteria, in your home? When properly maintained, carpets are enormously advantageous for maximising air quality, acting as giant filters within your home. Common allergens and germs can be gathered and absorbed by carpets from the air. But, just like an air filter, carpets become full over time and must be thoroughly cleaned periodically to ensure they remain most effective at trapping particulates as they descend from the air.
Our domestic carpet cleaning services have been tested by an independent air quality laboratory and have been proven to effectively remove an average of 98.1% of common household allergens from the carpets and upholstery we clean. And when we use a specialist sanitiser- developed especially for carpets- alongside these methods, up to 85% of the bacteria in the air and around 82% of the bacteria from carpets can be removed. This level of cleaning is essential if you have pets and leaves your carpets clean and air quality optimal, ensuring the safest environment for your family.
If you think we can help you out with your domestic carpet cleaning needs, then why not head over to our Contact page to get in touch with us, or give us a call on the number below?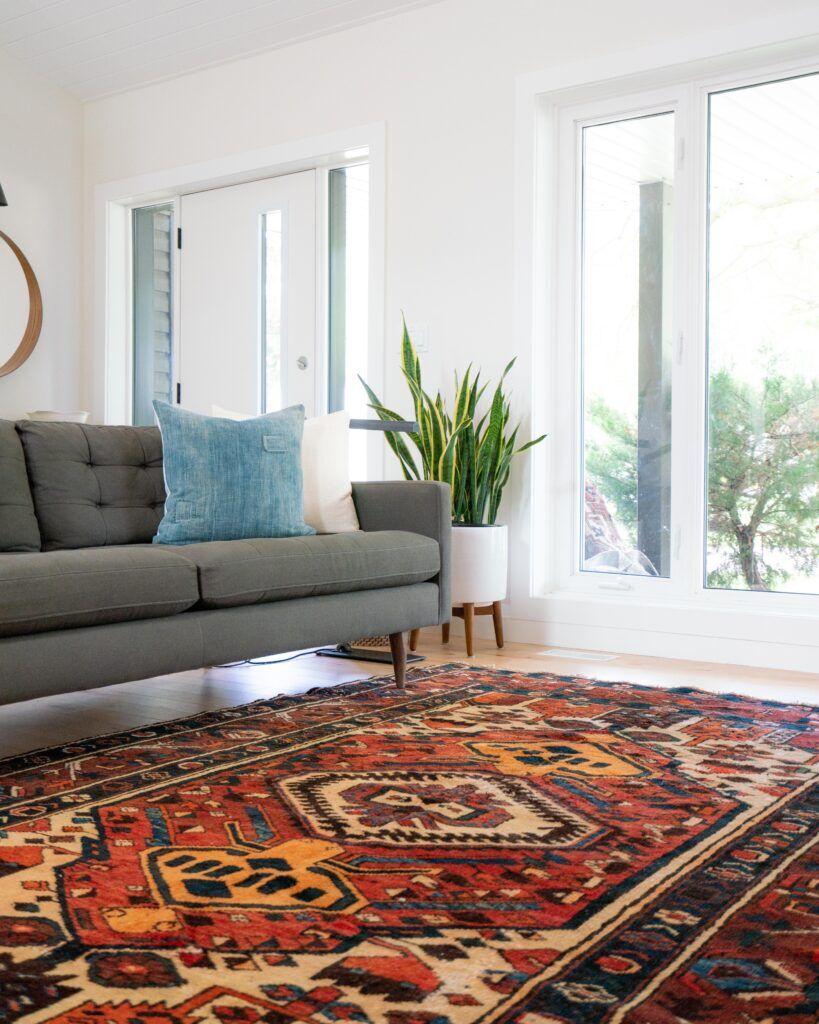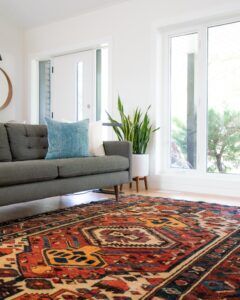 What are the benefits of getting my home carpets cleaned professionally?
Getting your carpets professionally cleaned by a domestic cleaning service like ours has a few pros. The most obvious one being, you won't have to lift a finger & can trust that the job will be done properly! Our carpet cleaners come with years of experience and know-how, so you can rest assured that your carpets will get the best possible treatment.
Domestic cleaners like ours are also equipped with the latest, most efficient cleaning equipment and products on the market – so you can be sure that nothing is left behind when they're finished. Our team also takes extra care when dealing with delicate fabrics, so you don't have to worry about any damage being done to your carpets.
How often should I get my carpets cleaned?
Generally, we recommend getting your carpets professionally cleaned at least once a year at a maximum depending on how often they are used. For carpets and rugs that are in high-use areas, families that bring a lot of mud in, or pets that shed, you should get them cleaned more often!
Our carpet cleaners can also provide deep cleaning treatments which will help eliminate any dirt and dust that may have become embedded into the fibres of your carpet. On top of that, we can advise you on the best practices for keeping your carpets looking their best – with regular carpet cleaning, you can be sure that your home is well maintained and hygienic!
Having a professional domestic carpet cleaning team like ours take care of all your carpet cleaning needs, will give you peace of mind that the job is done right every time. Our cleaning technicians are experienced in dealing with all types of carpets and fabrics, so you can trust that your carpets will receive the best possible care. We also use the latest cleaning technology and products to ensure that no dirt or dust is left behind.
Make sure your home always looks its best – hire one of our professional carpet cleaners today! With years of experience, the latest equipment and a commitment to the highest standards of cleanliness, our team are your best choice for carpet cleaning. Get in touch now & let us take care of your carpet!