Keeping any commercial space clean and tidy is of the utmost importance to any business. When it comes to upholstery in office spaces, restaurants or any customer facing this becomes essential. A clean environment can be the difference between a customer or client walking away with positive recollections of your facilities or not- nobody wants to sit uncomfortable in a dirty seating area. Northern Cleaning Solutions specialise in commercial upholstery cleaning, we have many repeat customers and carry out commercial cleans to a time which suits the business with which we are working.
Commercial upholstery cleaning
Commercial upholstery maintenance is essential not only for that critical first impression but also for extending the furniture lifespan. For any business, furniture can be an expensive but crucial investment, especially in an office or restaurant space with numerous seating items. The upholstery in these areas can start to become very costly to replace, so extending the lifetime of the investment is the most cost effective and environmentally friendly course of action- it just makes sense! Upholstery cleaning extends the life of your furniture, bringing old and tired looking upholstery back to life. We only use our specially formulated products which are safe and nontoxic. Our commercial upholstery cleaning team are highly trained and carry out all work in a professional and timely manner, we compile with and work alongside many large companies' health and safety departments to ensure all works carried out are to the highest and safest standards possible, making us the one stop shop for all your commercial cleaning needs. Once we have carried out the upholstery cleaning process, your furniture will usually be dry within a few hours or so, this means it is ready to be used by staff or customers within the same day, making our drying times some of the fastest on the market.
How it works
Once we have carried out a pre-inspection, our hot carbonated extraction system goes to work cleaning the upholstery. The powerful cleaning solution is up to tackling even the toughest dirt and grime which can accumulate quickly on heavily used commercial upholstery. Visualise a drinking straw being lifted to the surface of a fizzy drink by the bubbles. Now imagine the tiny bubbles of our highly carbonated solution getting to work on the dirt and grime ensnared deep within the fibres of your upholstery and lifting them to the surface, in much the same way. They can then be extracted from the surface, leaving upholstery which is clean right to the base of the fibres. When this solution is used in the hands of one of our certified upholstery cleaners, the results are truly amazing.
Proven results
The Hot Carbonating Extraction (HCE) commercial upholstery cleaning system is our in-house specialist method which has been developed over 30 years. The process does not just have a cool name, it has been proven to remove on average over 98% of common allergens from upholstery and fabrics. When used alongside our upholstery safe sanitising products we can remove up to 89% of the airborne bacteria, improving indoor air quality. Because we also understand that using harsh cleaning chemicals is impractical in a commercial environment, we only use our Green-certified product which is non-toxic, meaning a safe working environment for all.
Commercial upholstery cleaning protectant
We offer Protectant to ensure that once we have finished cleaning you continue to enjoy that fresh-looking upholstery for many months to come. This works by slowing down the resoling process. The average office chair, or any chair in a commercial setting for that matter, can see its fair share of incoming spills. This poses even more of an issue if these upholstery items have just been cleaned. Fortunately we have access to many fantastic stain guarding products; these are applied immediately after the clean. Once dry, these act to repel water and allow tea, coffee and many other potentially staining items to be easily wiped away before soaking into the fibres. Our products can also be applied to new upholstery. The main benefit of our stain guarding products is, once a reclean is required, it actually helps in the cleaning process because stains have been prevented from setting deep within the upholstery fibres and our, already excellent stain removal success rate, improves drastically. Be sure to ask one of our experienced office staff for more information on this.
Call our experienced and professional commercial upholstery cleaning team who are here to help with any queries. If items can not be quoted over the phone one of our expert cleaning technicians will visit your site and provide a free quotation tailored to your business needs.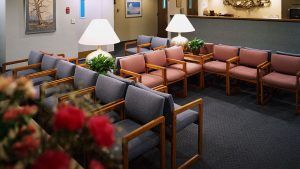 What are some common commercial upholstery fabrics?
The most common upholstery fabrics used in offices and commercial premises are polyester, nylon, leather and microfibre. Over time dirt and dust can accumulate on fabric and make it look dull or discoloured. Professional cleaning services like ours can restore your commercial furniture to its original beauty with upholstery cleaning, whatever the fabric of your office decor!Our experienced technicians make sure to use specialised cleaning products tailored to the fabric, in order to provide a deep clean that removes dirt and dust particles from upholstery. The result is an attractive, refreshed look for your commercial furniture.
What is the best way to protect commercial furniture between cleans?
Regular furniture maintenance is the best way to keep your office or shop looking great. Vacuuming regularly can help to remove dirt and dust particles from commercial upholstery fabrics, which will prevent them from becoming soiled or discoloured over time. Using a fabric protector after deep cleaning services can also help protect furniture and upholstery from spills and stains between cleans. Our cleaning teams can apply fabric protectants after every deep clean to extend the life of your fabrics and keep them looking great. If you need some, let our team know when you get in touch and we'll throw it in with our services!
How often should commercial furniture be cleaned?
How often you need to get your furniture cleaned depends on the amount of use and the environment where it's used. Generally, commercial upholstery cleaning should be done at least twice a year to maintain its appearance. Heavy traffic areas might need more frequent cleaning, while less used commercial furniture might need cleaning services every few months or so. Our experienced team can help you determine the best maintenance schedule for your furniture and provide cleaning to keep it looking its best!
What are some common upholstery problems that cleaning can solve?
Regular commercial cleaning services can help solve a number of upholstery problems such as worn fabric, discolouration, and pet hair. Our experts use commercial-grade, non-toxic products to remove dirt and dust particles from upholstery fabrics, which helps restore their original beauty. As well as that, commercial-grade cleaners can also help remove pet hair and other debris that accumulates on fabrics.
Interested in commercial cleaning for your office or commercial premises? Get in touch with us to arrange a consultation today. We look forward to hearing from you and helping make sure that your commercial furniture looks its best!