Ever walked into an office so pristine, it felt like stepping into a fresh snowfall? That's the magic touch of professional Commercial Cleaners in Leeds. Imagine the feeling – clean carpets underfoot, sparkling windows letting in natural light and work surfaces as spotless as a chef's kitchen. This isn't just about cleanliness; it's about creating an environment that boosts productivity and morale.
The question is, how do they achieve such standards?
In this post we're taking you behind-the-scenes with our team at Northern Cleaning Solutions – one of Leeds' leading commercial cleaning services. From contract office cleans to specialised oven scrubbing sessions; from rigorous quality control checks to ensuring customer satisfaction – there's more than meets the eye when it comes to maintaining high-standards.
Table Of Contents:
Commercial Cleaners Leeds: A Comprehensive Look at Services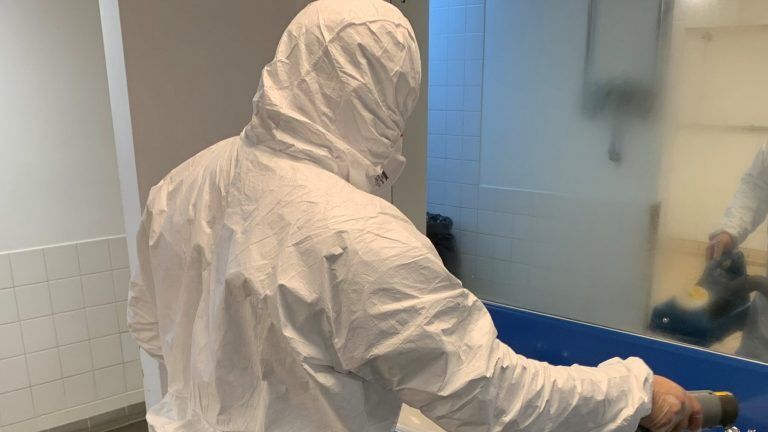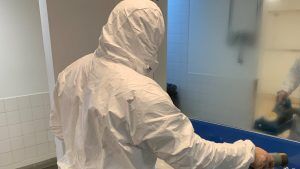 If you're on the hunt for top-notch commercial cleaning services in Leeds, Northern Cleaning Solutions should be your first port of call. We offer a broad range of professional commercial and industrial cleaning services, each tailored to meet specific client needs.
Our team of highly trained staff is dedicated to maintaining high standards while delivering quality service. But we don't just stop at standard office cleaning; our offerings extend to specialist areas such as window and carpet cleaning too.
Covering all corners from West Yorkshire through East Yorkshire, we've made quite a name for ourselves in the local business community. It's easy to comprehend why we've become so well-known in the local business sphere, with our extensive range of services that leaves nothing out.
A Wide Range Offered by Professional Commercial Cleaners
When we say wide range, we mean it. From deep cleans focusing on hard-to-reach areas like ducts and drains or dealing with grease build-up through kitchen deep cleanings – our team at Northern Cleaning Solutions has got you covered.
We also take care of more niche requirements such as car dealership, school, nursery or GP surgery cleanings – showcasing our adaptability across various sectors.
Detailed Attention towards Specialised Areas
Our team's attention isn't only confined within four walls either – we understand how crucial external cleanliness can be when running a successful enterprise which is why window cleaning features prominently among our services in Leeds.
Leeds Office Cleaning: A High-Quality Service
Our office cleaning services in Leeds are renowned for their high quality and competitive price. The team's use of the latest equipment guarantees that every corner is given meticulous attention.
We aren't just about getting jobs done – we're committed to providing excellent service with each phone call or visit, making us a reliable choice for businesses of all sizes throughout Yorkshire.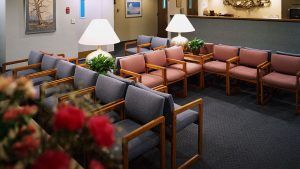 Imagine walking into an office where the desks are piled high with paper, dust bunnies dance in the corners, and a sticky coffee stain has made its home on your keyboard. Not only does this picture not scream 'professional', but it's also not conducive to productivity or wellbeing.
A clean workspace isn't just about appearances; it plays a vital role in employee health and efficiency. That's where we come in, providing top-notch office cleaning services in Leeds.
Breathe Easy with Clean Air Quality
Indoor air quality can significantly impact employees' health. Dusty environments may trigger allergies or respiratory issues, causing discomfort and reducing work performance. A regular deep clean by professional commercial cleaners helps maintain optimal indoor air quality so everyone can breathe easy at work.
Making Impressions Count
Your office is often the first impression clients get of your business – let's make sure it's a good one. An immaculate workspace reflects professionalism and attention to detail, qualities that customers appreciate when deciding who they want to do business with.
Boosting Productivity
No one wants to wade through clutter or lose precious time searching for lost documents because their workspace is untidy. Regular contract cleaning services ensure all areas remain tidy and organised, leading to increased productivity levels amongst staff members.
Finding Trustworthy Commercial Cleaning Companies
In our years of experience as reliable providers of commercial cleaning service based out here in Leeds, we've seen firsthand how transformative professional maintenance can be for businesses – both large-scale industrial complexes right down small offices across the West Yorkshire region.
When choosing a cleaning company, it's important to opt for one that has established trust and reliability in the industry. With Northern Cleaning Solutions, you get all this and more. We boast of providing first-rate service, provided by our highly experienced personnel.
With us taking care of your office cleanliness needs, you can focus on what truly matters – growing your business. So don't let dust bunnies take over; give us a call today!
Quality Control Checks & Customer Satisfaction
At Northern Cleaning Solutions, we're committed to delivering a high-quality service. This means that our quality control checks for commercial cleaning in Leeds are rigorous and thorough.
We start by ensuring every member of our team is highly trained. We realise the importance of having a qualified eye on your property; somebody who can detect even the tiniest fragment of dirt concealed in those hard-to-access places.
The next step is equipment cleaning – after all, clean tools make for cleaner spaces. So we ensure all our gear is pristine before it ever touches your premises. From window squeegees to carpet cleaners, each piece undergoes its own quality check before use.
We also have stringent standards when it comes to completing jobs within given timelines without compromising on cleanliness or safety norms. That's how we provide excellent customer service and communication at every stage.
Feedback Loop
To keep us sharp and responsive, there's nothing more important than hearing from you – the client. After any work done by us – be it office cleaning in leeds or carpet cleaning services – we always ask for feedback through a simple phone call or email questionnaire.
Your responses let us fine-tune our processes further making sure you get only the best commercial cleaning services Leeds has got to offer.
Maintaining High Standards with Regular Audits
A key part of keeping up high standards involves regular audits conducted by field managers checking both routine tasks like daily office tidying as well as deep cleans such as kitchen degreasing procedures undertaken during off-peak hours so businesses experience minimal disruption.
The goal is not just to meet, but exceed expectations – that's why we aim for the highest standards of commercial cleaning in Leeds. From top-to-bottom spring cleans to quick touch-ups before an important client meeting, our goal is always your complete satisfaction.
Remember, whether it's a comprehensive deep clean or regular upkeep you need for your Leeds office locations, Northern Cleaning Solutions is your go-to. We've got everything covered with our rigorous quality control checks to ensure spotless results every time.
The Coverage Area of Northern Cleaning Solutions
Our mission is to bring sparkle and shine wherever we go.
We understand that businesses from East Yorkshire through West Yorkshire need our help too. So, our highly trained cleaners don't just limit themselves within the boundaries of Leeds city centre. Instead, they fan out far and wide to serve a diverse range of clients all over this great county.
If you're running a restaurant group or pub chain up in Harrogate or down in Sheffield; managing care groups on the coast at Scarborough or inland at Wakefield – worry not. We've got your back with our comprehensive industrial cleaning services.
Beyond providing excellent service for traditional office spaces, we've honed specialist skills for more unique settings as well. Schools and nurseries require particular attention given their role nurturing young minds – no task is too small when it comes to creating safe environments for learning.
Specialized Commercial Cleaners: Not Just Office Space
Sometimes standard office cleaning doesn't cut it – specialized industries like car dealerships need tailored solutions such as high-pressure jet washing or detailed equipment cleaning.
Likewise GP surgeries & dental clinics ask us about infection control while gym owners are keen to maintain hygienic, sweat-free equipment. Northern Cleaning Solutions is flexible enough to meet these diverse needs across East and West Yorkshire.
Our Commitment: High-Quality Service at a Competitive Price
No matter where you're located within the Yorkshire area, our commitment remains consistent – providing high-quality service at competitive prices. We believe in quality without compromise because we understand that cleanliness plays a pivotal role in making your business shine.
The High Standards of Northern Cleaning Solutions
When it comes to commercial cleaning in Leeds, the team here at Northern Cleaning Solutions has set an impressive bar. Their commitment to maintaining high standards and delivering deep cleaning services for commercial spaces is second to none.
Deep Cleaning Services
Beyond the appearance of a workspace, its cleanliness is integral to health and efficiency. But not all types of dirt are visible on the surface. That's where our deep carpet cleaning services come into play.
Our trained professionals use advanced equipment and eco-friendly products that reach beyond what meets the eye, removing grime from hard-to-reach areas and leaving your premises sparkling clean. Whether you run a restaurant or an office building, our approach ensures no corner goes unnoticed – be it carpets or upholstery.
Maintaining High-Quality Standards
Northern Cleaning Solutions doesn't compromise when it comes to quality service delivery. We have rigorous quality control checks in place that ensure each task meets our lofty standards before we call any job complete.
To give you peace of mind, these checks include thorough inspections after every task completed by our highly trained cleaners as well as regular audits carried out by management teams – all aimed at ensuring your satisfaction with every single service provided.
About Northern Cleaning Solutions
Based in Huddersfield, we have established ourselves as a top-notch cleaning company. We're more than just cleaners; we're specialists who bring years of expertise and experience to every task.
We pride ourselves on our range of services that cover all corners of commercial and domestic needs. From schools to solicitors' offices, nurseries to GP surgeries – you name it, we clean it. And with our head office conveniently located in West Yorkshire, we're never too far away for any emergency call-outs.
The Power behind Our Services
In this competitive field where high standards matter most, what sets us apart? It's simple: Quality service backed by cutting-edge equipment. We use eco-friendly carbonation-based cleaning solutions which not only give your carpets a deep clean but also make sure they stay fresh longer.
We have invested heavily into ensuring that our team is highly trained so they can deliver professional commercial cleaning services consistently across Leeds and the surrounding areas.
A Deeper Clean for Your Business
Cleaning isn't just about making things look good – though we do excel at that. At Northern Cleaning Solutions, 'cleaning' means digging deep down into those hard-to-reach areas and tackling the tough jobs other companies might shy away from.
We offer specialized services such as oven cleaning or drain clearing – tasks often overlooked yet crucially important in maintaining an optimal working environment. To us no job is too small or big – if you need help keeping your business spotless inside out then you've come to the right place.
Quality Control Checks & Customer Satisfaction
Every single project undertaken by Northern Cleaning Solutions goes through stringent quality control checks. We don't just clean; we make sure the job is done right.
Customer satisfaction sits at the heart of our business model. Our staff will remain onsite until you are content with the results, and even after that they'll give a quick call to ensure it's still as pristine as when they left.
Conclusion
Professional Commercial Cleaners in Leeds do more than just tidy up. They create environments that boost productivity and morale, thanks to the high standards maintained by companies like ours – Northern Cleaning Solutions.
The services offered range from regular office cleaning to specialised tasks such as oven and drain cleaning. All this is delivered with rigorous quality control checks for a service you can trust.
Northern Cleaning Solutions doesn't just operate in Leeds; our reach extends throughout Yorkshire, offering our expertise across a wide area, cleaning carpets and upholstery wherever there's dirt to remove!
In essence, maintaining cleanliness isn't simply about hygiene – it's about creating an environment where success thrives. That's the true value of professional commercial cleaners – making spaces work better so people can too.