Professional carpet cleaner services are more than just a luxury, they're an essential investment for your home or business.
We often underestimate the power of clean carpets. They can transform our living spaces and work environments into healthier, fresher and more inviting areas.
There are many benefits to them – from enhancing aesthetics to reducing allergens. But achieving this isn't as simple as running a vacuum over your floor coverings every now and then.
Nope! It requires the expertise of a professional carpet cleaner service. So let's delve deeper into what these services entail and why they're worth considering…
Table of Contents: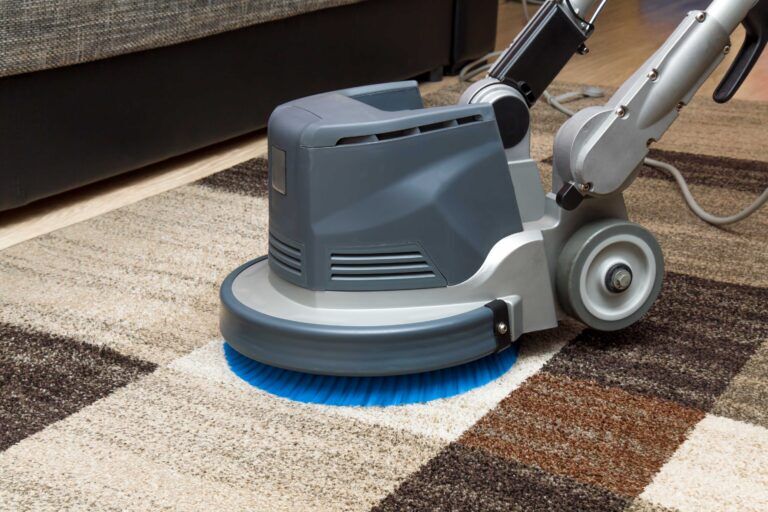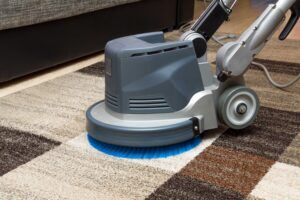 When it comes to keeping your home or business premises looking its best, professional carpet cleaning services play a crucial role. A spotless carpet can significantly boost the overall ambiance, creating an inviting and comfortable environment.
Carpets are essentially indoor air filters that trap dust particles, allergens, and bacteria within their fibres. Regularly cleaned carpets not only enhance aesthetics but also contribute towards healthier living by reducing these potential health hazards – especially beneficial for those with allergies or respiratory conditions.
Beyond visual appeal, professional cleaning helps extend the lifespan of your carpets too. Dirt and grit buried in your carpet cause wear over time; regular deep-cleaning removes this debris, which preserves your precious carpets and rugs.
Apart from visible cleanliness which enhances aesthetic appeal at first glance, there's more than meets the eye when you hire professionals like us here at Northern Cleaning Solutions. We're not just about removing stubborn stains on the surface level – our top-rated professional carpet cleaning service reaches deeper into the fibre structure where most household vacuums fail to reach.
This ensures thorough cleaning inside out, resulting in cleaner, fresher-looking carpets, without any lingering odours left behind by spills or pets. Plus, we use powerful hot water extraction machines, ensuring shorter drying times while delivering effective results every single time.
Safeguarding Your Investment: Prolonged Lifespan
Hiring a respected local carpet cleaner isn't just about maintaining appearances – it's all about protecting what is often an expensive investment made to improving your comfort levels both at home and in office spaces.
To maximise your return on these investments requires diligent care – part of which involves hiring experts who know how best to keep fabrics in their best condition, while tackling stain removal processes regularly, extending the useful life of a carpet longer than if you were to clean a carpet through DIY efforts alone. So whether it's restoring beauty back into old worn-out rugs or keeping new ones in pristine condition long-term, remember to always opt for expert help whenever possible.
Key Takeaway: Engaging a professional carpet cleaning service not only spruces up your space but also safeguards health by eliminating allergens and bacteria. It's more than just surface cleanliness; it's about deep-cleaning, odour removal, preserving your flooring investment and prolonging the lifespan of your carpets.
Residential Carpet Cleaning – A Personalised Action Plan
No two households have the same carpets, and that's why we at Northern Cleaning Solutions, a highly rated residential carpet cleaning firm located in Huddersfield, take a tailored approach. We believe in creating bespoke action plans for each residential project.
The first step of our tried-and-tested process is to thoroughly assess your home carpet. We determine its type and condition to identify the most effective method for deep-cleaning it without causing any damage.
Determining Specific Needs
We pay special attention to high-traffic areas that might require extra care or spots with stubborn stains needing specialised treatment. This helps us understand exactly what kind of stains we're dealing with – whether they're wine spills from last night's party or muddy paw prints from your four-legged friend.
Besides this, allergen build-up on carpets can also be an issue impacting indoor air quality and health risks, this will need addressing during our assessment. WebMD has some great tips on how you can reduce these allergens yourself too.
Tailoring The Cleaning Process
Once all necessary information about your specific requirements is gathered by our team of experts, we'll take on a customised cleaning approach using our powerful hot water carbonation machines combined with eco-friendly detergents. This will be suitable for every stain and type of fibre you have so we can make sure we get a thorough clean at the same time as keeping your carpets looking and feeling brand new for as long as possible!
Good Housekeeping provides excellent tips to maintain a freshly cleaned look between our cleaning sessions. Remember, applying a stain protector post-service also increases longevity, keeping your carpets looking fresh for longer.
Maintaining Your Carpets Post-Cleaning
A crucial part of personalised service includes information on how to keep things clean between our services too. After ensuring every corner shines bright like a diamond through the use of tried-and-tested processes, we provide you with useful insights into daily maintenance routines such as regular vacuuming, natural ways to remove minor marks/stains and the correct ways to clean a carpet with your hoover.
Key Takeaway: Northern Cleaning Solutions, a cleaning service in Huddersfield, offers bespoke action plans for each home. They assess your carpet's condition and type, identify specific needs like stubborn stains or allergen build-up, and tailor the cleaning process using eco-friendly detergents. They also offer post-service advice on maintenance to ensure long-lasting cleanliness of your carpets.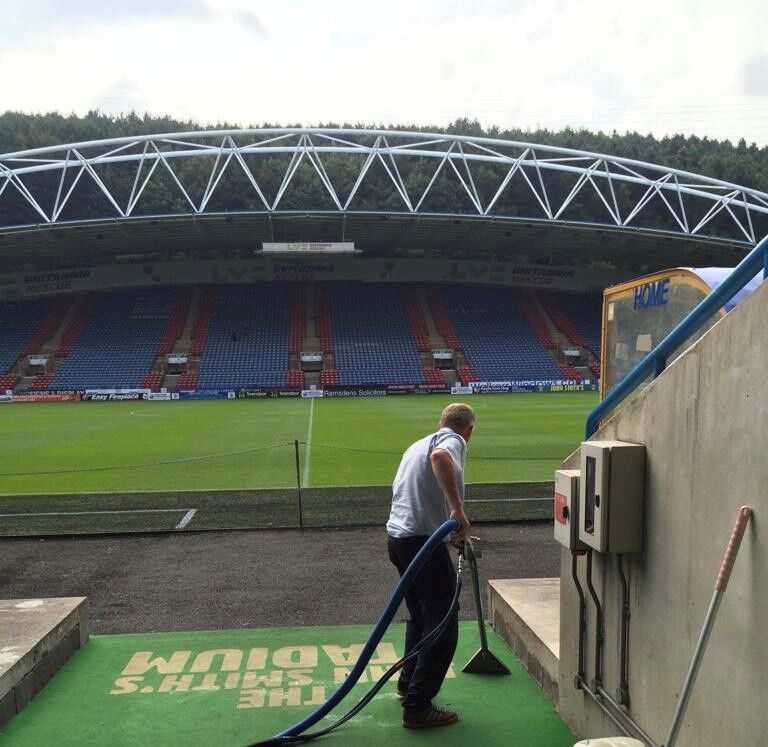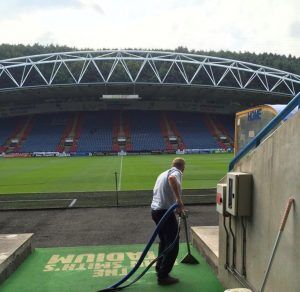 A clean and presentable business premises isn't just about looking good. Carpet cleaning services are essential for keeping the carpets free from allergens, dirt and bacteria to create a healthier environment in your business premises.
Professional carpet cleaning services play an essential role here by removing allergens, dirt, and bacteria that might be lurking within your carpets. Plus, they help create a positive impression among clients or customers while fostering a healthier workspace for employees.
The Perks of Regularly Cleaned Carpets
In commercial spaces like offices, hotels, or care homes where there's high foot traffic, professional carpet cleaners become indispensable. They use powerful hot water carbonation machines which bubble deep into the fibres, effectively eliminating stubborn stains along with any lingering odours, without damaging the carpeting.
Besides enhancing aesthetics and freshness, regular professional cleaning can extend the lifespan of your carpets too, saving you from premature replacements.
Tailored Commercial Cleaning Services
Different businesses have unique needs, sometimes even regulatory requirements come into play, such as Care Quality Commission (CQC) guidelines for care homes mandating specific cleanliness standards, including their floor coverings.
In these situations, respected local carpet cleaners provide bespoke solutions using proven processes coupled with advanced technology, ensuring compliance alongside top-notch results every time.
Eco-Friendly Practices: A Step Towards Sustainability
Promoting green practices is becoming increasingly popular among companies today – this includes choosing eco-friendly alternatives for maintaining premises, inclusive of carbonation-based systems used in carpet cleaning. This shift towards sustainable methods not only helps protect our planet but also reflects positively on your company's image, showing commitment towards responsible stewardship.
Key Takeaway: Professional carpet cleaner services are a game-changer for businesses, ensuring clean, allergen-free carpets that boost health and create positive impressions. With bespoke solutions tailored to unique needs, they extend carpet lifespan while supporting eco-friendly practices – it's cleanliness meeting sustainability.
FAQs in Relation to Professional Carpet Cleaner Service
How much do carpet cleaners charge in the UK?
The cost of professional carpet cleaning in the UK varies, but it generally ranges from £20 to £35 per room. However, prices can fluctuate based on factors such as the size and condition of the carpet.
What kind of professional carpet cleaning is best?
There are varying opinions on this, but we believe the hot water carbonation method, is the most effective form of professional carpet cleaning. It deep cleans carpets by removing stubborn stains and odours without damaging the fibres themselves.
Does professional carpet cleaning remove all stains?
A majority of common household stains can be effectively removed with professional methods. However, some extremely tough or old stains may not completely disappear despite expert treatment.
How is professional carpet cleaning done?
Cleaning professionals typically use advanced techniques such as hot water extraction, which involves injecting heated water mixed with detergents into the carpets and then extracting it along with dissolved dirt and debris.
Conclusion
Clean carpets can transform living spaces and work environments into healthier, fresher areas.
They enhance aesthetics while reducing allergens. But achieving this isn't as simple as vacuuming every now and then.
The expertise of professional carpet cleaner services is crucial. They use proprietary methods you typically can't DIY to efficiently remove stubborn stains and lingering odours.
Suitable detergents are selected based on the specific carpet fibres and types of stains. An optional stain-protector can increase the lifespan of your carpets after cleaning.
For both residential homes and commercial premises like offices, hotels, schools, etc., professionals create personalised action plans depending on the type of carpet in different areas.
Here at Northern Cleaning Solutions, we provide tailored solutions with our unique carbonation-based system that is eco-friendly, safe for families, and effective! If you want to know more about it, why not get in touch to ask any questions you might have?